WoodyGoulart is my name. I was born in 1950 in San Luis Obispo. My early education, from first through twelfth grade, was in the Mission school system in San Luis Obispo. I also attended Cuesta College in San Luis Obispo prior to starting at Cal Poly in 1970. I graduated from the Cal Poly Journalism Department in 1973.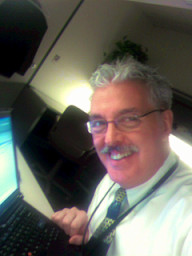 (Pictured here in Tysons Corner, VA in 2009) I have been living and working in the Washington, DC market since 1995.
While I was a journalism major at Cal Poly, I served in various roles: KCPR news director, KCPR station manager, and a day editor of Mustang Daily. I went on to earn a master's degree in communications in 1976 from Humboldt State University in Arcata, California and a doctoral degree in communications in 1979 from Indiana University in Bloomington, Indiana. In 2005, I earned certification by the University of Maryland to teach courses online for the University of Maryland University College.
From 2005 through 2008 I served as an adjunct faculty member teaching university-level communication courses for University of Maryland University College, both online and in the classroom. In the 1970s and 1980s, I taught university-level communication courses at Cal Poly, Humboldt State University, Indiana University, University of Louisville, University of New Haven, and Bridgewater State College.
My professional career also includes employment in the broadcasting industry, general management and television programming in the cable television business, and, strategic communications management in Washington, DC. I have professional digital media experience and am presently employed full-time in strategic communications management serving Pentagon clients.
Please visit my personal website and blog at

http://woodygoulart.com/wg/